Keepod Unite Aims to Bring Computer Access to Africa with $7 USB Sticks and Refurbished Laptops (Crowdfunding)
February 11th, 2014
The
Raspberry Pi
foundation has done a great job to bring to market $25 and $35 computers for kids to learn programming, but they have many other uses including hardware "hacking" and bringing
low cost computers to developing countries
. Keepod and NGO LiveInSlums have thought of an apparently more cost effective way to bring computing access to people living in slums in Nairobi, Kenya, by providing USB sticks (about $7) to boot
refurbished laptops
. This is absolutely NOT a $7 PC as a few other websites have mentioned.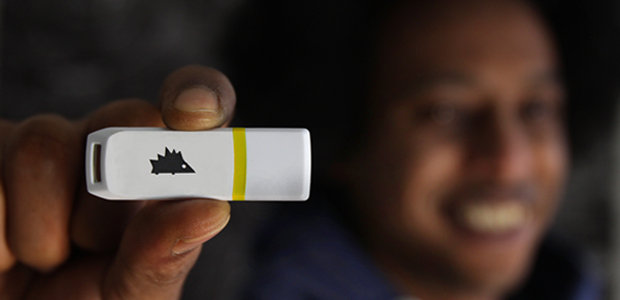 The goal is to facilitate NGO communication, the spread of knowledge and economic development in a way that's personal and secure. The
USB flash drives
will belong to one person, and contains a Linux based operating systems with all files saved in the stick, and no modifications on the host computer which does not even need an hard drive to work, and if it has one, it would probably be removed or disconnected to save energy. The
refurbished laptops
will be shared by several people. This bring costs down, reduces the risk of theft, and makes the setup more resilient to computer outage as the USB stick that just boot any other computer, and the users won't lose their personal files.
The USB stick is flashed with an operating systems similar to Debian, Ubuntu or Mint Live CD image, but the company claims to have put lots of development effort into security, drivers & compatibility, performance, file system reliability, system foot-print, etc… The device is preloaded with applications such as Google Chrome, Thunderbird, Skype, LibreOffice, VLC, FileZilla, Steam, XMBC, Pixlr, Pidgin… The
refurbished laptop
or computer needs to features an x86 processor (32- or 64-bit), 1GB RAM, a
graphics card
supporting 1024×768 resolution, and a USB 2.0 host port.
They are currently running an
Indiegogo campaign
to gather funds ($38,000) to source 1,500 Keepod Unite USB sticks, and 50
refurbished laptop
for the Mathare slums of Nairobi, Kenya. Provided they reach their goals, the total cost per user would be around $25, which should be much lower than alternative solutions. Pledges start at $1 to support the project, $90 will get you one Keepod Unite, and send 5 others to Africa, and $12,00 will get you 5 units, and provide 100 to the project. Others pledge are also available, and you could even fly to Nairobu with the team if you wish.
You can follow the project on
Keepod.com
.
Thanks to CSilie for the tip